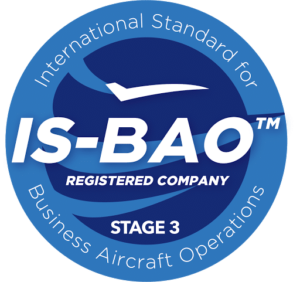 Worldwide Jet is an industry leader in private air charter flights. We embrace the highest possible standards when it comes to convenience, luxury, safety and security. We are known throughout the world for our unparalleled service to our clients and our operational excellence. On a daily basis, we fly world leaders, entertainers, superstar athletes, and CEOs of Fortune 500 companies, just like you. Their trust is our endorsement.
Worldwide Jet operates under FAA Part 135 Rules and Regulations Certificate #WWQA554N. Leading industry safety auditors, ARG/US, Wyvern, IS-BAO and Air Charter Safety Foundation have evaluated and rewarded Worldwide Jet with their highest levels of certification:
ARG/US Platinum
Wyvern Wingman
IS-BAO Stage III
Air Charter Safety Foundation
We have translated the meticulous service of a five-star hotel to every Worldwide Jet flight. Whether flying coast-to-coast or to an international destination, we cater to your every need. Our growing private jet fleet consists of Challenger, Gulfstream, Global Express and Hawker aircraft.
Our employees and customers can always count on us to deliver the experience they expected and more.
We follow the coordinates of our moral compass to ensure outstanding excellence in everything we do.
Our success is based on the success of each of our employees. Empowering our employees allows them to achieve the 5-star service we are known for.
We are the charter operator that puts the traveler first. Everything we do is designed to serve them and the unique culture(s) they come from.
The health and wellbeing of our employees and travelers is always priority #1.
A traveler's experience with us is theirs, and theirs alone. If it is in our power, it will be in their itinerary.
The health and wellbeing of our employees and travelers is always priority #1.
With an educational background in computer software, hardware and networking, Mr. Avila has been integral in advancing Worldwide Jet technologically, all the while honoring the "old school" simplicity of the processes that has made this company a success.
In addition to his role as VP of Charter Operations and Chief Flight Scheduler, Mr. Avila is type rated and serves as Captain on the CL-600 and Gulfstream G-IV/SP.
Mr. Schiffman joined Worldwide Jet in 2006 bringing his extensive knowledge of logistics and aviation to the organization. His career in aviation started in 1980 with his first FAA pilot rating. With a passion for travel, he later started Center Travel where he was the President and CEO, handling private jet logistics for some of the largest music and entertainment clients in the world. In 2003 Mr. Schiffman formed Ascent Jet Charter and focused specifically on the charter jet business. His philosophy is "there are no problems, only solutions." With this attitude, Mr. Schiffman is the right person to make your charter flight happen smoothly and cost effectively.
Mr. Gaines brings 23 years of aviation maintenance experience to the company. He holds an Airframe & Power Plant license along with an Inspection Authorization license. Over 13 years at Bombardier Aerospace Mr. Gaines started as a mechanic and quickly moved up to Lead Mechanic, Project Supervisor, and then Regional Manager. He realized he wanted to expand his experience to Part 135 operations and became Chief Inspector for a Part 135 operator. Within 2 years he was the Director of Maintenance.
As Worldwide Jet's Director of Maintenance, Mr. Gaines is responsible for providing safe, reliable, airworthy aircraft in support of customer requirements and directs the overall aircraft maintenance functions of the company, including all aspects of FAA, ARG/US, Wyvern and IS-BAO compliance.
Mr. Rohleder has been in the aviation industry since 1975, bringing to Worldwide Jet his vast experience of aircraft maintenance. He has worked for Part 145, 135 & 91 operations including Fortune 500 flight departments, and has over 30 years of experience with Gulfstream Aircraft along with Challenger, Citation, Hawker to name a few. Mr. Rohleder holds an Airframe & Power Plant License along with an Inspection Authorization license.
Mr. Rohleder's duties as Worldwide Jet's Chief Inspector include working with the Director of Maintenance to ensure the safety, reliability, and airworthiness of the aircraft including all aspects of FAA, Wyvern, ARG/US, & IS-BAO compliance. Mr. Rohleder also holds an FAA Private Pilot Certificate with Instrument privileges.
With over 20 years of aviation experience, Noel Fournier joins the company as VP of Business Development. Prior to joining Worldwide Jet, Noel served in various roles of business development, sales and operations for several premiere Part 135/91 charter and aircraft management companies. In addition, Noel spent the last eight years with a national fuel supplier responsible for sales/business development of its contract fuel program. His passion for the business and ability to form lasting relationships is a welcomed asset to the team.
Worldwide Jet's vision is to always be the first choice in the industry by continuously redefining private luxury travel.
Get in touch today to book your next luxury flight.