Private Jet Charter Washington DC Travel Guide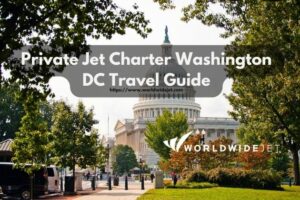 Are you looking to take a private jet charter for travel to Washington, DC? With the number of airlines and jet services available, it can be hard to navigate which service is best. This blog post will help make this decision easier by providing an overview of some of the top private jet charter services that offer flights to Washington, DC.
From luxury amenities from trusted carriers to flexible offerings from individual flight operators, there's something for everyone when it comes to swift and comfortable transportation around the District.
Read on for all that you need to know about private jet charter Washington DC.
Overview of the Benefits of Private Jet Charter Services
Private jet charter services provide an unequaled level of comfort, flexibility, and privacy for those who value efficiency. With a private jet, passengers avoid the hassles that come with commercial air travel- long security lines, flight delays, and cancellations – allowing them to work or relax in peace en route to their destination. From business executives seeking convenience to celebrities aiming for discretion – more people are realizing the advantages this luxurious option offers over traditional modes of transport; making it increasingly popular in recent years.
What to Look for When Choosing a Private Jet Charter Service
When selecting a private jet charter service, safety should always be the primary focus. Before deciding on any provider, examine their history and adherence to industry regulations. In addition to these essentials, ensure you are satisfied with their flexibility in making adjustments or changes along your journey if need be; also review feedback pertaining to customer care for further assurance of an enjoyable flight experience without stress.
Washington DC is a hub for high-flying executive clientele looking for convenient and efficient travel options. Private aviation in Washington DC is taking off with top private jet companies offering luxurious travel experiences customized to meet any traveler's needs. From small jets for efficient business trips to larger aircraft equipped with up to 19 seats and the latest technology – these companies provide unparalleled service that includes personalized itineraries and gourmet catering options. So if you're looking for an indulgent getaway or convenient corporate transportation, look no further than these leading providers of private air services.
How to Compare Prices and Different Service Options
In order to make the best decision for your needs, it's essential that you do your due diligence and research all of the available options. Make sure to consult a variety of sources such as online reviews, family and friends' recommendations, or even directly contact service providers with any questions you may have in order to get an understanding of what's out there. Once this is done take time to compare those choices by evaluating cost, quality, and convenience – not forgetting the chance to ask questions before making a final choice.
Tips for Planning Your Flight with a Private Jet Charter Service
When it comes to planning your flight with a private jet charter service, there are several tips to keep in mind to ensure a smooth and enjoyable experience. First and foremost, it's essential to communicate your needs and preferences clearly with the charter service, such as your desired destination, travel dates, and any specific requests you may have.
Additionally, be sure to research the available aircraft types and amenities to select the best option for your needs. It's also important to consider the price and any potential fees or charges so that you can budget accordingly.
Finally, particularly if you're new to private jet travel, it's helpful to ask questions and seek guidance from the charter service to ensure a stress-free and comfortable experience. By keeping these tips in mind, you can plan a successful and enjoyable flight with a private jet charter service.
Travel Destinations in Washington DC
Here are some travel destinations in Washington DC that you might find interesting:
The National Mall – a symbolic centerpiece of America's Capitol city. Stretching from the Lincoln Memorial to the U.S. Capitol, this majestic public park is home to iconic monuments and memorials paying homage to our country's defining moments in history: like the soaring Washington Monument, reverent Vietnam Veterans Memorial and calming Lincoln Reflecting Pool.
The Smithsonian Institution is home to an incredibly diverse collection of artifacts, art and exhibits – with 17 museums and galleries dedicated to showcasing the best America has to offer in terms of history, nature, science and culture. Experience the breadth of our nation's story first-hand by visiting one (or more!) today.
Experience the storied halls of history firsthand on a tour of The White House, the official residence and workplace for all American Presidents since 1800. Uncover essential insights into our nation's political past as you take in its iconic architectural features.
Located in Washington D.C., the National Gallery of Art is a world-renowned repository that boasts an impressive collection from masters like Leonardo da Vinci, Vincent van Gogh, and Pablo Picasso – offering visitors one-of-a kind glimpses into some of history's greatest works.
Discover the unique history of America's seat of democracy, The United States Capitol. Guided tours provide a comprehensive look at its impressive architecture and how it has been integral to our nation's legislative branch since 1793.
Georgetown presents the opportunity to explore DC's storied past while indulging in its dynamic modern offerings. From cobblestone streets and upscale shopping, to trendy restaurants and a thriving social scene – let yourself be enveloped by Washington's unique culture.
Spend a day of family fun at the National Zoo and get up-close to some fascinating creatures! From majestic giant pandas, awe-inspiring elephants, and regal lions, explore this zoo's diverse selection featuring over two thousand seven hundred animals from three hundred ninety species.
Step into a world of wonder at the Library of Congress! With over 170 million items and impressive architecture, visitors can take part in public tours that reveal its rare book collections – offering an unforgettable insight into this unique building's history.
Explore African American history and culture at the National Museum of African American History & Culture! Featuring exhibits on slavery, civil rights activism, and contemporary life for AAs today – this Smithsonian museum is an enlightening experience not to be missed.
The Kennedy Center for the Performing Arts serves as a premier destination to experience world-class performances in theater, dance and music. With an annual lineup of captivating events from renowned artists across various disciplines, it's no wonder that this iconic venue is one of DC's crown jewels.
Considerations for Booking Private Jet Charter Washington DC
Booking last-minute flights can be a daunting task, especially in a bustling metropolis like Washington DC. To ensure a smooth and stress-free travel experience, it's important to keep a few key considerations in mind.
First and foremost, be flexible with your travel dates and times, as this can greatly impact the cost of your flight. Additionally, thoroughly research all available airlines and their policies regarding last-minute bookings, as some may be more accommodating than others. Finally, always double-check that you have all necessary travel documents and that they are up-to-date to avoid any potential hiccups at the airport.
By taking these considerations into account, you'll be well on your way to a successful last-minute flight booking in Washington DC.
Overall, private jet charter services offer a luxurious experience for those seeking an exclusive level of travel. Planning your private jet charter experience in DC doesn't have to be overwhelming. Take time to research the available options, comparing quality and convenience before deciding which company is right for you.
Make sure they have a secure booking system with an excellent customer service record as well as affordable prices that meet your needs. Don't forget last-minute considerations such as planning tips – by being mindful of these key points it can ensure an unforgettable journey through Washington DC.
Worldwide Jet's vision is to always be the first choice in the industry by continuously redefining private luxury travel.
Get in touch today to book your next luxury flight.