The Best Way to Travel with Your Pet on Air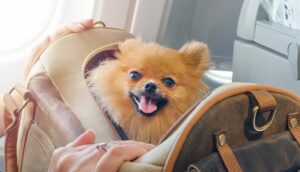 Pets are adorable members of the family. They make our lives interesting and fun. With a pet by your side, there is not a single moment of dullness. This explains why leaving your pet behind while going for a trip is always an unpleasant experience. However, you may be accustomed to flying all the time, but the same cannot be said for our furry friends.
Traveling onboard a plane can be a tremendously scary experience for your pet. So, how can you fly comfortably with your reptile or your four-legged friend?
Use Pet-Friendly Charter Flights
If you enjoy the company of your pets thoroughly and you want to take them with you wherever you go, use private plane flights. Most of the air travel companies that offer these services are aware of the customer's needs. They know that you want to travel comfortably. And if you've brought your furry friend along, she is also a worthy passenger.
A pet-friendly charter flight goes above and beyond to accommodate your pet on board. Be it a cat, a reptile, a dog, or a bird, you can rest assured that your pet will be with you every step of the way. Unlike large commercial airlines, a private jet charter allows you to sit side by side with your pet in the cabin.
Fly with Your Pet in the Cabin Instead of Cargo Hold
Pets are easily traumatized by unfamiliar people or places. If you fly with an airline that prefers to keep pets in the cargo hold, chances are that your friend will be depressed. In most cases, you will want your pet to be your travel companion. But if your furry friend will be in the cargo hold for the entire time, what's the point? Private jet charter services are the perfect flying partners because they allow you and your pets to travel together as you wish.
Traveling with your Pet in Commercial Flight Cabin and Private Jet Charter
While some commercial flights will allow you to bring your pet to the cabin, the experience could still be stressful for the domesticated animal. For example, there are going to be many unfamiliar faces in the cabin. Although some passengers will be friendly to your pet, others might be uncomfortable. Additionally, flying with your pet in the cabin of a commercial plane denies them the opportunity to roam freely. In a private jet charter, your friend can move around and play throughout the flight.
So, are you planning to travel with your pet soon? Ensure that your friend will be as comfortable as possible throughout the journey with aircraft safety & security.
Worldwide Jet's vision is to always be the first choice in the industry by continuously redefining private luxury travel.
Get in touch today to book your next luxury flight.