The Ultimate Guide to Top 10 International Beach Destinations for Private Jet Charter
Ready to Jet-Set to Paradise?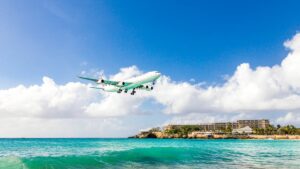 So, you've decided to make the most of your vacation by indulging in the ultimate luxury experience: private jet charter. If you're reading this, it means you're interested in the creme de la creme of beach destinations to reach with your own chartered flight. Well, my fellow wanderlust enthusiasts, you're in for a treat! In this blog post, we'll take you on a whirlwind tour of the top 10 international beach destinations that are even more accessible and enchanting when you opt for a private jet charter.
Before we dive into the sun and surf, let's talk about the why behind private jet charters. It's more than just a status symbol; it's about convenience, comfort, and yes, a bit of flair. Traveling by private jet not only saves you time but also eliminates the stress of crowded airports, security lines, and the dreaded middle seat. Now, let's match this level of luxury with some of the most breathtaking beach destinations across the globe.
1. Tahiti – The Pearl of the Pacific
Tahiti, often referred to as "The Pearl of the Pacific," is an island paradise in French Polynesia. Picture perfect with its crystal-clear waters, overwater bungalows, and lush tropical landscapes, Tahiti is the epitome of a private jet-worthy destination. Whether you're into water sports, romantic getaways, or simply unwinding on the beach, Tahiti offers it all.
2. St. Barts – The Caribbean Gem
St. Barts, located in the Caribbean, is the playground of the rich and famous. This island is synonymous with elegance, luxury, and pristine beaches. You can land your private jet on this charming island and enjoy the turquoise waters, gourmet dining, and high-end shopping. St. Barts is where luxury and relaxation harmoniously coexist.
3. Mykonos – The Greek Party Island
Mykonos, a picturesque Greek island, is known for its vibrant nightlife, stunning beaches, and mesmerizing sunsets. Chartering a private jet to Mykonos means you can hop from one fabulous beach to another without the hassle of commercial flights. Enjoy the lively atmosphere or seek out secluded coves for a more private experience.
4. Maldives – The Overwater Paradise
The Maldives is a true paradise for those seeking seclusion, privacy, and overwater bungalows. When you land via private jet, you'll have the freedom to explore multiple atolls, each more beautiful than the last. With private beaches and world-class resorts, the Maldives is the ultimate escape for couples and honeymooners.
5. Bora Bora – The Romantic Getaway
Another gem in French Polynesia, Bora Bora is synonymous with romance. This island offers breathtaking scenery, incredible coral reefs, and luxurious resorts. Your private jet can touch down directly in paradise, where you'll be welcomed with open arms to a world of relaxation and pampering.
6. Fiji – The South Pacific Haven
Fiji is a haven of diverse landscapes, lush forests, and beautiful beaches. When you choose a private jet charter, you'll gain access to remote islands, crystal-clear waters, and the warm hospitality of the Fijian people. It's an untouched paradise waiting to be explored.
7. Hawaii – The Pacific Playground
Hawaii is renowned for its captivating beauty, including volcanic landscapes, pristine beaches, and a unique culture. A private jet will enable you to hop between islands with ease, experiencing the distinct vibes of Oahu, Maui, Kauai, and more. Say aloha to your dream Hawaiian adventure.
8. Seychelles – The African Eden
Seychelles, an archipelago in the Indian Ocean, is a hidden gem known for its white-sand beaches, clear waters, and thriving marine life. Private jet charter will ensure you can hop from one breathtaking island to another, all while enjoying the utmost privacy.
9. The Bahamas – Paradise Unleashed
The Bahamas, with its pristine waters and numerous islands, is tailor-made for private jet charter. Explore the Exumas, Abacos, and Nassau with ease, discovering untouched beaches, world-class diving spots, and charming communities along the way.
10. The Amalfi Coast – Italy's Coastal Treasure
The Amalfi Coast in Italy is a heady mix of stunning coastline, charming villages, and mouthwatering cuisine. Landing via private jet puts you right in the heart of this Mediterranean jewel, where you can savor la dolce vita with every step.
These top 10 international beach destinations for private jet charter are just a glimpse of the stunning options available to you. Whether you seek relaxation, adventure, romance, or all of the above, these destinations offer it all with an added layer of luxury and convenience when you choose a private jet charter. So, get ready to embark on a journey like no other, where the skies are your limit, and the beaches are your playground. Bon voyage!
Worldwide Jet's vision is to always be the first choice in the industry by continuously redefining private luxury travel.
Get in touch today to book your next luxury flight.