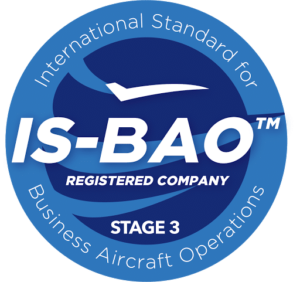 Worldwide Jet has been evaluated by the leading industry safety auditors, obtaining ARG/US Platinum, Wyvern Wingman and IS-BAO Recommended status. Only the elite operators achieve this trifecta of excellence. Our pilots, all full-time, have thousands of hours of experience and are trained and tested to the highest standards, each undergoing rigorous aircraft and emergency training twice a year.
Worldwide Jet's Safety and Security Program is managed by our Director of Aviation Safety and Security, combined with input and guidance provided by our Safety Committee, monthly company-wide Safety Meetings, and Flight Risk Assessment of every leg flown.
Worldwide Jet only recruits highly qualified pilots, mechanics, and cabin attendants and indoctrinates them all via our specialized training curriculum, including flight training at CAE SimuFlite and Bombardier Aerospace.
Worldwide Jet utilizes CAE SimuFlite and Bombardier Aerospace for full-motion simulator pilot training. Global Jet Services, Inc. conducts our ongoing Maintenance Education and Certification. Additionally, our all of our training programs are constantly being reviewed and enhanced with specialized training providers for international operations, medical services, cabin services, food preparation, and emergency procedures.
Worldwide Jet's Safety Management System has been developed and implemented with the guidance of the FAA, IS-BAO, ARG/US and Wyvern, exceeding the minimum requirements for such programs. Our SMS provides our management and crewmembers with the tools and resources necessary to ensure that safety remains our top priority and all risk can and will be mitigated to acceptable levels. Worldwide Jet's Safety Policy reflects senior management's commitment to continually improve safety.
Every leg flown by Worldwide Jet is evaluated utilizing our Flight Risk Analysis Tool (FRAT). Our FRAT allows Operations and crew members to see first-hand and in real-time how our risk tolerance for each leg is affected and allows each risk to be identified and mitigated. This tool allows Operations and crew members to communicate in real-time and ensures the best decisions are made at all times.
Every Worldwide Jet trip is reviewed by our operations staff and crew members, including a safety and security briefing on each country and city we are scheduled to visit via the Department of Homeland Security, N.S.A., World Health Organization, and various other government agency briefings. Depending upon the risk level we will then take necessary precautions and make backup plans to mitigate risks, including evacuation plans for our passengers, crew, and aircraft should the need arise. Even after your flight has departed, we maintain thorough oversight and are able to quickly make any necessary decisions.
Worldwide Jet's vision is to always be the first choice in the industry by continuously redefining private luxury travel.
Get in touch today to book your next luxury flight.